About Us
The MKG-Minnesota Kali Group of schools are truly an international network with affiliates and branches throughout the world including England, Japan, Spain, Scotland, Germany and the United States.  The mission of the MKG schools has always been to offer qualified instruction in high quality and highly effective martial arts without an emphasis on competition or ego.  Our motto is Learn.Play.Sweat.
MKG Seattle strives to be on the cutting edge of martial arts and fitness in our four completely distinct programs. Adult Martial Arts and Kickboxing, cross cultural Youth Martial Arts, CrossFit @ MKG and ourMAX10 Kickboxing Bootcamp Challenge, formerly called 10 Week Body Sculpt Challenge.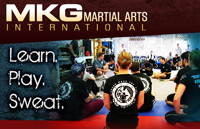 MKG Martial Arts International, the Seattle Branch of the world famous Minnesota Kali Group, opened its doors in 2000. Our 24,000 square school is located in the Northgate neighborhood of Seattle and is one of the largest schools of it's type in the country. Parking is never an issue as we have an extremely large parking lot and a bus stop 1 block away.
Our 24,000 square foot facility features:
Over 10,000 Square Feet of Matted Space
Complete Studio Fully Equipped For CrossFit
Complete Studio Fully Equipped For Fitness Classes With Medicine Balls, Bands,  Kettlebells and More.
Over 50 Heavy Bags and Ground Bags
Speed Bag
Cardio Area Included in Membership Including 2 Treadmills, Elliptical, Step Mill/Stair Stepper, Rowing Machines
Boxing Ring
3 Wing Chun Dummies
Lockers For Day Use and Monthly Rental
Personal Training Area
Reception and Lobby
Wi-Fi
4 Bathrooms, 2 Changing Rooms and 2 Showers
Below you will find a full tour of our facility conducted in March of 2014. In the video you will see all 5 training floors being used simultaneously as well as highlights of the facility.

Please feel free to schedule a free intro lesson in the program of your choice by clicking here.